text.skipToContent
text.skipToNavigation
Maximum quantity allowed is 999
Please select the quantity
CAS RN:
89889-52-1
|
Product Number:
B6096
Biotin-LC-LC-NHS (2mg×5)
Purity:
Synonyms:
N-Succinimidyl N-[6-(Biotinamido)hexanoyl]-6-aminohexanoate (2mg×5)
N-[6-(Biotinamido)hexanoyl]-6-aminohexanoic Acid N-Succinimidyl Ester (2mg×5)
Documents:
*Upon orders receipt, Hyderabad stocks will be dispatched on the same day & Chennai stocks on next working day.
*INR price is exclusive of domestic taxes applicable.
*Change currency to place order in USD.
*Items available in Japan warehouse will be dispatched within 2-3 calendar weeks upon orders.
*TCI frequently reviews storage conditions to optimize them. Please note that the latest information on the storage temperature for the products is described on our website.
---
Note:
Product Information
Volume/Quantity : 2 mg x 5
Molecular weight : 567.7

Description
N-Hydroxysuccinimide (NHS) esters of biotin are commonly used as biotinylation reagents. B6096, Biotin-LC-LC-NHS reacts with the primary amines (-NH2) in buffers with pH between 7 and 9. The product is supplied in quantities suitable for biotinylation of up to 30 mg of antibodies.

Storage
This product should be stored at -20 ºC. Do not store at stock solution.

Related Products
B6097 Biotin-PEG2-NHS (2mg×5)
H0586 HABA
S0883 Sulfo-SMCC Sodium Salt
H1621 Horseradish Peroxidase Maleimide Conjugate (0.5mg×3)
B5944 BSA Maleimide Conjugate (1mg×3)
T3531 Streptavidin Maleimide Conjugate
S0951 Streptavidin from Streptomyces avidinii
S0966 Streptavidin FITC Conjugate
S0972 Streptavidin HRP Conjugate
S0993 Streptavidin DTBTA-Eu3+ Conjugate

Directions for Use
Preparation:
Use of a 10 mM Biotin-LC-LC-NHS solution is recommended. In order to efficiently biotinylate a sample, Biotin-LC-LC-NHS should be used at a 15-fold molar excess over the amount of amine-containing protein. Make sure to calculate the 10 mM biotin solution amount to be used with respect to the molar value of the sample (see example below).
* Do not store reagent in solution.

Calculate A uL of 10 mM biotinylation reagent solution :
For 2mg IgG (150,000 M.W.)
2 [mg IgG] x 10-3 [g/mg] x 1/150,000 [mol/g] x 15 [fold]
= A [uL of 10 mM B6096 solution] x 10-6 [L/uL] x 10 [mmol/L] x 10-3 [mol/mmol]

A = 20 [uL of 10 mM B6096 solution]

Procedure:
1. Bring Biotin-LC-LC-NHS (Product No. B6096) to room temperature.
2. Dissolve 2 mg of Biotin-LC-LC-NHS (Product No. B6096) in 350uL of dimethyl sulfoxide (DMSO) or dimethylformamide (DMF) and prepare a 10 mM solution of Biotin-LC-LC-NHS.
3. Dissolve the sample (1-10 mg/mL) in an amine-free buffer with pH between 7 and 9 such as PBS. Do not use buffers containing amines such as Tris.
4. Add A uL of 10 mM Biotin-LC-LC-NHS solution to the sample solution.
5. Incubate the mixed solution for 30 min at room temperature.
6. Remove unreacted and hydrolyzed reagent using desalting column or dialysis methods according to the manufacturer's instructions.
Product Number
B6096
Molecular Formula / Molecular Weight

C__2__6H__4__1N__5O__7S

= 567.7
Physical State (20 deg.C)
Solid
Storage Temperature
-20°C
Store Under Inert Gas
Store under inert gas
Condition to Avoid
Moisture Sensitive,Heat Sensitive
CAS RN
89889-52-1
Reaxys Registry Number
8377428
MDL Number

MFCD00467154
Specifications
| | |
| --- | --- |
| Appearance | White to Almost white powder to crystal |
| Functionality test | to pass test |
Properties (reference)
GHS
Related Laws:
Transport Information:
Documents
Safety Data Sheet (SDS) Search
The requested SDS is not available.
• Please check that the Product Number you have entered is correct.
• If your information is correct and you are still not able to view the requested SDS, please Contact Us for more information.
C of A & Other Certificates
Please enter Lot Number
Incorrect Lot Number is entered
Other Documents
Related Products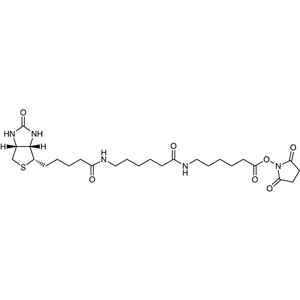 N-Succinimidyl N-[6-(Biotinamido)hexanoyl]-6-aminohexanoate
| | |
| --- | --- |
| Product # | S0956 |
| CAS RN | 89889-52-1 |
| Purity / Analysis Method: | >90.0%(HPLC) |
View Full Details